What is Neighbourhood Planning?
You can find out more about Neighbourhood Planning here: https://locality.org.uk/services-tools/neighbourhood-planning/
A Neighbourhood Plan is a document that sets out planning policies for a local area. It highlights areas that we want to protect and how development should meet the needs of the community.
It is written by people who care about the town and want to ensure that Biddulph gets the right types of development, in the right place.
Neighburhood planning is supported by central government through the Localism Act.
Neighbourhood Plan Examination
Following the Regulation 16 consultation (15 July to 27 August 2021), the Neighbourhood Plan has been through a period of Examination. The Neighbourhood Plan Working Group submitted these documents to the Examiner on 17 November 2021:
BTC Response to Examiners Comments 17 Nov 2021
Other documents submitted by the Town Council and Staffordshire Moorlands District Council are here: Biddulph – Notice of Submitted Plan & Neighbourhood Development Order Proposals – Staffordshire Moorlands District Council (staffsmoorlands.gov.uk)
The final report from the Examiner was received on 2 February 2022 and is here: Biddulph Final Report
Over the coming weeks, the Neighbourhood Plan Working Group will consider the report and any necessary modifications, working with colleagues at Staffordshire Moorlands District Council. More information will be available here, and on the 'My Biddulph' Facebook page.
What was Regulation 16 Consultation?
Regulation 14 Consultation on the draft Neighbourhood Plan was concluded in November 2019. Following this, the Working Group spent a number of months considering the responses to this document and the Neighbourhood Development Order. Unfortunately, the Covid-19 pandemic delayed the next step of this journey, but the following documents were submitted to Staffordshire Moorlands District Council, to commence the Regulation 16 Consultation process.
Biddulph Neighbourhood Development Plan 
Biddulph NDP Basic Conditions Statement December 2020
Biddulph NP Consultation Statement Feb 2021
APPENDIX H- PROPOSED LOCAL GREEN SPACES
Reg 16- 4 Greenway Moor Gateway
Reg 16- 5 Biddulph Bowling Club
Reg 16- 7 Well Street Allotment
Reg 16- 9 VOS 16 Thames Drive Woodland
Reg 16- 10 Woodhouse Lane Wooded Area
Reg 16- 13 Congleton Road Gateway
Reg 16- 16 Biddulph Valley Way
Reg 16- 19 Geneva Way Green Space
Reg 16- 21 Corner of The Uplands
Reg 16- 23 Knypersley Cricket Club
Reg 16- 24 Knypersley Sports Ground
Reg 16- 25 Knypersley Green Space
Reg 16- 26 Knypersley Bowling Club
Reg 16- 27 Knypersley Fishing Pool
Reg 16- 28 Green on Conway Road
Reg 16- 29 Mill Hayes Sports Ground
Reg 16- 31 Mill Hayes Grass Verge
Reg 16- 33 Mill Hayes Fishing Pool
Reg 16- 34 Top Springfield Road
Reg 16- 35 Park Lane Allotments
Reg 16- 36 Moorland Road Allotment
Reg 16- 37 Section B VOS 20 St David's Way
Reg 16- 38 Shepherd Street Slater Street
Reg 16- 39 VOS 17 Leisure Centre
Reg 16- 40 VOS 18 Braddocks Hay
Reg 16- 41 VOS 19 Church Road Playing Fields
Reg 16- 42 Green Space Kingsfield Crescent
Reg 16- 44 Land Opp Lawton Crescent
Reg 16- 45 Hawthorn Grove Play Area
Reg 16- 47 Church Road Roundabout
Reg 16- 48 Highfield Place Green Space
Reg 16- 50 Land at End of Healey Avenue
Reg 16- 52 Corner of Craigside
Reg 16- 53 VOS 11 Gillow Heath Rec Ground
Reg 16- 54 VOS 13 Dorset Drive West
Reg 16- 55 VOS 14 Dorset Drive East
Reg 16- 60 Gillow Heath Station
Reg 16- 62 Craigside Green Areas
Reg 16- 64 Brown Lees Fun Park
Reg 16- 68 Land Adj to New Road Meth Church
Reg 16- 70 Fields Behind Talbot car park
Reg 16- 72 Land Behind Bungalow off Grange Road
Reg 16- 74 Pine Trees Congleton Road
Reg 16- 76 Brown Lees Village Green
Reg 16- 77 Brook Street Green Areas
Reg 16- 79 Orme Road Grass Verge
Reg 16- 87 Hazel Grove Green Space
Reg 16- 88 Stoneyfields Green Space
Local Green Space Designations – Rationale for Inclusion
Appendix H – Map of Whole Town LGS
Appendix H – Map of North Biddulph LGS
Appendix H – Map of Central Biddulph LGS
Appendix H – Map of Biddulph Moor LGS
Appendix H – Map of Biddulph South LGS
We are also working on a Neighbourhood Development Order. You can find out about the Neighbourhood Development Order here: http://biddulph.co.uk/neighbourhood-development-order/
Contact Biddulph Town Council on office@biddulph-tc.gov.uk or 01782 498480 for more information or to arrange for the Working Group to speak to you at another occasion.
What has been going on in Biddulph?
Biddulph Town Council has been working on a Neighbourhood Plan for the town since late 2015. This is a lengthy process because the town is a large area with a range of challenges and requirements.
The town requested designation as a Neighbourhood Plan area in November 2015: Designation Letter
The area was designated by Staffordshire Moorlands District Council in February 2016: https://www.staffsmoorlands.gov.uk/article/1178/Neighbourhood-planning
A Neighbourhood Plan Working Group has been meeting regularly throughout this process to understand what should be included within a Neighbourhood Plan. If you would like to come along to one of the meetings, they are open to anyone living or working in the town. Please call: 01782 498480 or email office@biddulph-tc.gov.uk for more information.
At the end of 2016, the Working Group made the decision not to include site allocations within the Neighbourhood Plan. This information is included in the Staffordshire Moorlands District Council Local Plan. The Neighbourhood Plan covers development of the High Street, infrastructure requirements, protection of our environment and heritage and make stipulations about the design of new housing. The document does not say where this will be located.
Much of the work of the Group (to-date) has involved collecting data and evidence about the needs of the town.
In December 2017, a householder questionnaire was completed, which was returned by over 1200 households in the town. The survey data is here: 1217 Survey Responses Feb 2018
We were delighted that the cover of the questionnaire was designed by local school children, who were asked to consider what 'Biddulph 2035' would look like: Final Householder Questionnaire V3
Following analysis of the results of the questionnaire, the Group felt it was important to seek independent Highways advice, to advise (in particular) about the critical road junctions in the town. RPS completed the attached report (Section 6 is information about critical road junctions): Biddulph Highways Technical Report
Here is also a summary of the recommendations: RPS report summary of recommendations
The Working Group has also considered the play requirements of children within the town: Play Survey Data_All_190206
Biddulph Town Council has received specialist support from AECOM to develop a Housing Needs Assessment (HNA): HNA_Biddulph_FinalVersion
AECOM has also completed a Masterplan for the town centre: FINAL Biddulph Town Centre Masterplan Framework Report 004
A range of consultation events have taken place and members of the team have attended Residents' Associations, meetings with young people, health groups, etc. The Group would be delighted to speak to your organisation or team – please get in touch!
The Neighbourhood Plan Working Group felt very strongly that the environment of Biddulph should be mapped by independent and specialist agencies that could help to identify and record the special nature of areas of the town.
The Group commissioned the creation of a number of maps and studies from Staffordshire Wildlife Trust. You can find these maps here: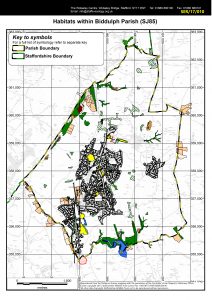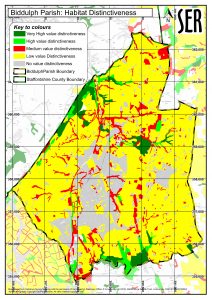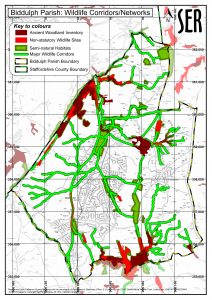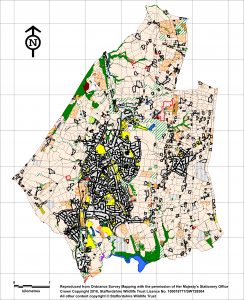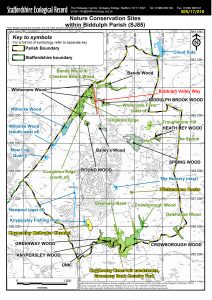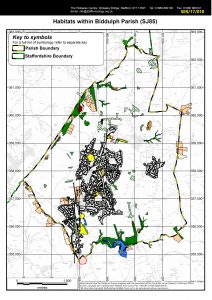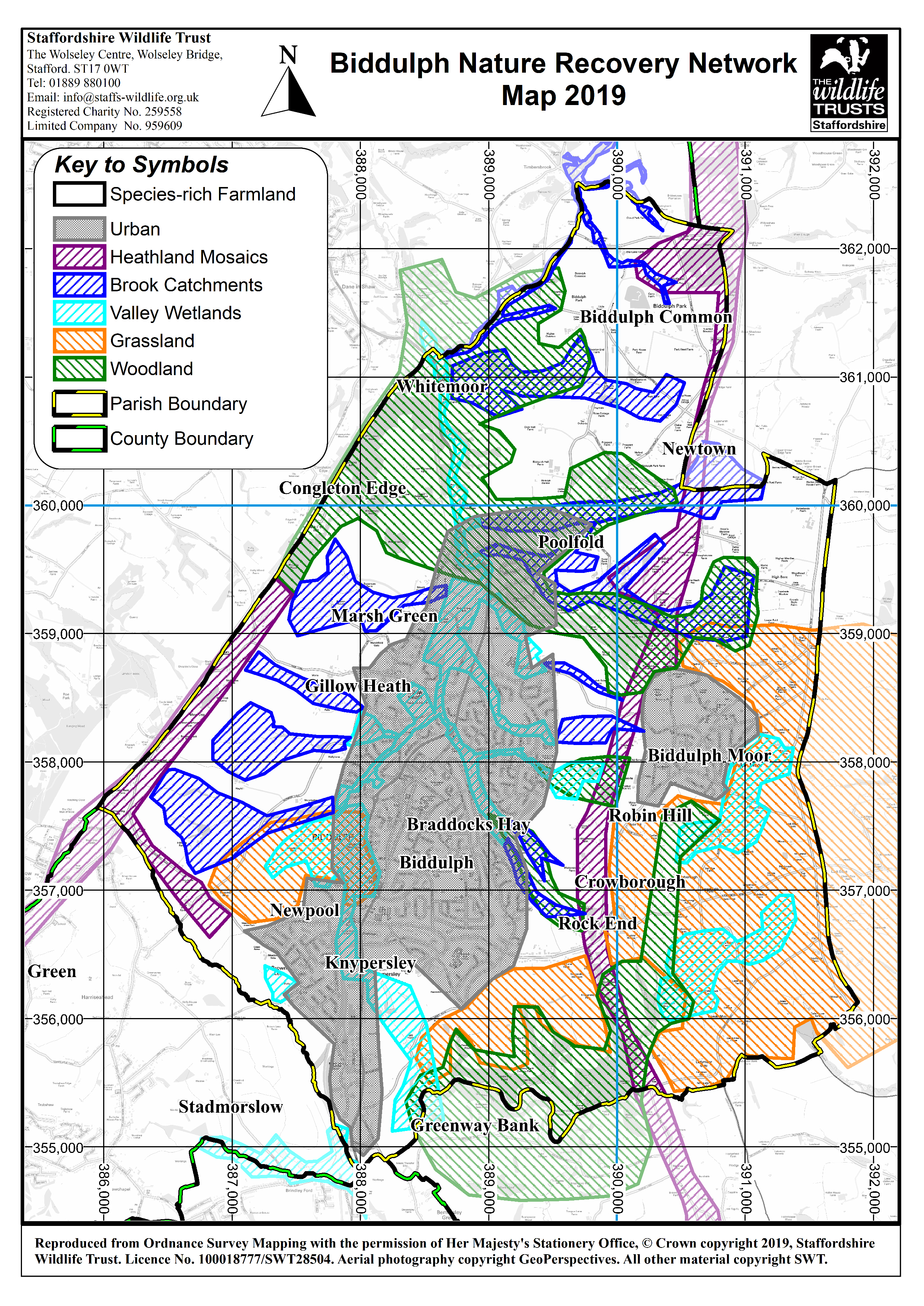 These maps are accurate as at May 2019, and are included with this 'screening' document that was approved at Biddulph Town Council on 14 May 2019. This document includes the draft Neighbourhood Plan policies that will be considered by Staffordshire Moorlands District Council and their partners.
You can view this document here: SCREENING VERSION Draft Policies Biddulph Neighbourhood Plan May 2019
Feedback from Staffordshire Moorlands District Council following the screening process is included here:
Bidduph NP HRA Screening Report September 2019
Bidduph NP SEA Screening Report September 2019
Determination Statement Neighbourhood Plan
Local Green Space Designations
At the end of 2018, the Neighbourhood Plan Working Group consulted the community on proposed Local Green Space designations.
You can read more about Local Green Space designations here: https://neighbourhoodplanning.org/toolkits-and-guidance/making-local-green-space-designations-neighbourhood-plan
Guidance states that Groups should consider (although not exhaustive) the following areas when considering this designation:
Informal green spaces

Village Greens

Allotments

Cemeteries

Highway verges

Parks and gardens

Footpaths and cycle routes

Country parks

Rural footpaths and nature trails

Sports pitches, golf courses and bowling greens

Sustainable Urban Drainage Systems and other landscaped areas.
The National Planning Policy Framework (NPPF) Guidance says that the designation should only be used:
where the green space is in reasonably close proximity to the community it serves

where the green area is demonstrably special to a local community and holds a particular local significance, for example because of its beauty, historic significance, recreational value (including as a playing field), tranquillity or richness of its wildlife

where the green area concerned is local in character and is not an extensive tract of land.
78 areas were included in the initial consultation. This identified a number of additional sites and issues for the Group to consider. As a result, a further period of consultation took place in April 2019. In total, the Group has consulted on 88 proposed sites.
Please see here for the summary of responses that resulted from these two consultation periods. During this time, land owners and land users were invited to offer their thoughts on each site.
Biddulph Local Green Space Audit- May 2019
Guide to the colour coding:
There are a number of sites are were felt to be unsuitable for Local Green Space designation; these are 'red' on the spreadsheet.
'Green' and 'Amber' coloured sites will be put forward as sites that are recommended to have a Local Green Space designation.
A full list of the current Proposed Local Green Spaces (Appendix H) and accompanying maps is included within the Regulation 14 information above.