The Town Council is responsible for the Council Chamber within Biddulph Town Hall. You can rent this room for an event or meeting.
Joint Meetings
There is no charge for meetings in which the Town Council is a partner. These include:
District Council & County Council meetings
Friends of Biddulph Valley Park
Moorlands Partnership Board
Biddulph in Bloom
Sports Council
Twinning
Fairtrade
Biddulph Community Festival
Mayor's Race
Defibrillator training.
This list is not exhaustive.
The Council Chamber can accommodate a number of room layouts. Below is an example of a boardroom-style layout.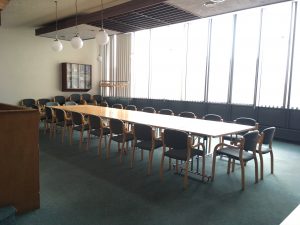 The Council Chamber can easily accommodate 50 guests.
Please call 01782 498480 or email office@biddulph-tc.gov.uk for more information.