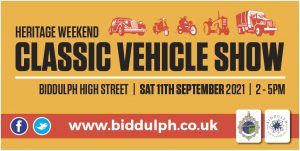 We are excited to announce that the Biddulph Classic Vehicle Show will be on Saturday, 11th September 2021 on Biddulph High Street form 2.00-5.00pm.
If you would like to register your vehicle please do get in touch. There will be prizes for Best in Class and Best In Show. The event is kindly supported by Snelsons of Biddulph.
On the day we plan to bring you live music, vintage tea and cake and for the children some vintage games to play. Churnet Sound Radio will be in attendance chatting to everyone about their passion for a classic.
If you have any questions at all please do get in touch on 01782 498480 or email office@biddulph-tc.gov.uk