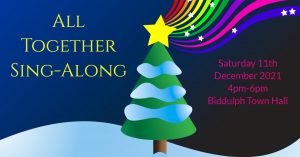 CANCELLED – Sadly due to current conditions, this event has been cancelled. We hope to bring it back to you in December 2022
This year we want you to be together. Together with your families, your friends and your community.
From 4 pm outside the Town Hall, we would like you to join us for a Christmas sing-along.
We have invited the local schools and CT ST8 to come and sing on the Town Hall steps holding their lanterns high, where we will join them in a great big sing-along. All are invited. There will be singing, chocolate and Santa!